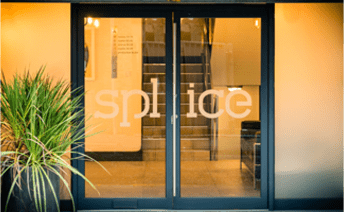 Fast growing Shoreditch post house Splice (recent credits include Siblings, People Just Do Nothing and The Men Who Made Us Spend) further expanded its offering last month, opening a second building at Picture House, Singer Street with 23 more edit suites and a large grading theatre in Old Street. It coupled this move with a major overhaul of its storage facilities, investing in 680TB of Pixit Media's PixStor storage.
Splice is using its generous quantity of PixStor storage to offload and park projects from its Avid Isis and also provide a short term backup for live projects.
"The PixStor is a very versatile storage system for us at Splice. It provides fast working storage as well as archive storage, with projects staying on there for anything from two or three weeks to three or four months before being moved off onto LTO tape," explains Splice co-founder and md Damian Dolniak.
Decision
The decision to go for PixStor was made fairly late in the day, after Splice already had all but settled on a different storage system. The change in plan, which was made at the "eleventh hour," says Dolniak, was driven by a perfectly timed suggestion from Sean Baker, Commercial Director at systems integration company ERA, that Splice should investigate all PixStor had to offer. "I'd heard about PixStor before but hadn't given it too much consideration as I wasn't aware of the sheer amount of versatility it would offer. I'd just heard it was making waves. We were quite a long way down the line with an alternative storage supplier and it really became a feasible option to go for PixStor right at the eleventh hour after we managed to work the numbers with ERA to make the investment work." Splice installed 680TB of useable storage, which is physically located at its Perseverance Works headquarters. A 10Gbit dark fibre connection links Perseverance Works to Splice's new Old Street building, "so everyone working at Splice can access the storage in the same way regardless of the building they are in."
Many benefits
Dolniak is buoyed up by the long list of benefits he's already witnessed from his timely decision to go for PixStor. "One of the brilliant advantages is the performance of the drives doesn't degrade as the system fills up. All other systems go downhill when they start getting anywhere near full, whereas, with PixStor you get the same performance whether it's 5% or 95% full."

Splice's PixStor replaces the facility's previously installed storage. "PixStor uses a quarter of the rack space, it consumes a tenth of the power and provides six times as much storage as we had before. I really like the fact you can scale it up easily, too, adding 200TB, for example, very easily and cost effectively. You might typically spend around five times more to do a similar scaling up of storage capacity with a competing system. And Pixit PixStor can cope with 4K and uncompressed formats, so it gives us the flexibility to deal with 4K content when needed in the future." Dolniak continues.
"The fact PixStor uses off-the-shelf hardware rather than unnecessarily expensive proprietary hardware is another big benefit to us. The hardware we're using is just as good and a fraction of the cost." The way data is presented to the end-user is similarly versatile, says Dolniak. Irrespective of where data is physically stored, it is presented as one big volume that can be broken down into whatever pools are required. You can then allocate bandwidth to any pool, to give performance-intensive tasks the firepower they need.

On top of all this, "Pixit Media provides excellent and very reasonably priced support and is always available, 24 hours a day," adds Dolniak. "Installing PixStor at Splice has had a positive impact for the facility from both a commercial and technical point of view," summarises Jason Jenner, Sales and Marketing Director, Pixit. "Specifically Splice is using PixStor to provide a central asset repository that sits alongside their existing Avid Isis estate, effectively a 'tier two.'
They now have a central storage resource with highly sophisticated data management features and guaranteed performance they can grow exponentially as capacity demands increase."
Smooth operation
ERA worked with Pixit to install PixStor at Splice; a process Dolniak says went very smoothly. "From us green lighting the decision to the storage being up and running at Splice was around six weeks," he says. "We've worked with ERA for a good number of years now and they are our 'go to' guys for network and storage. They're a good bunch and genuinely know what they are talking about – they are a little bit geeky, which I like," he laughs.

ERA's Baker adds: "We've worked with Splice providing storage, support and services for over five years, and we understand their workflows and requirements. We came up with a solution to give them the flexibility of a near-line archive whilst also being able to use in production in an emergency. PixStor was the obvious choice as we've had many successful installations of it in the past, integrating with other high performance workflows." Meanwhile, Pixit's Jenner says: "Splice came onto our radar via ERA, through its strong relationship with the customer. As our solution constitutes what is often the underpinning infrastructure for the facility, it's essential our resellers understand both the creative pipeline and where it interacts with the more traditional IT elements required. ERA has a real track record in this area and is an ideal integration partner."
Talk to ERA today and see what we can do for your business!
Save
Save