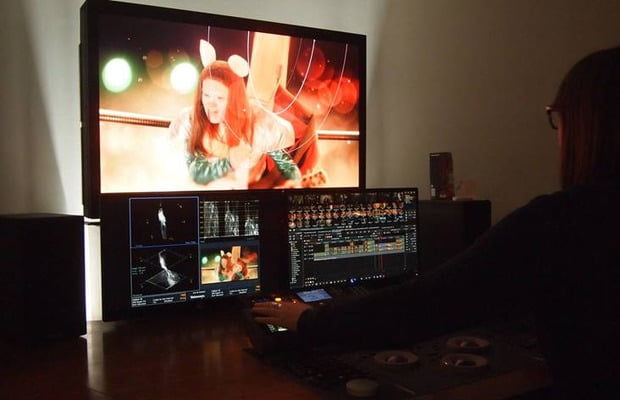 Halo Post Production, winner of the 2016 Best Post Facility Award from Broadcast magazine, has boosted its picture post functionality with PixStor software-defined storage from Pixit Media – powered by NetApp E series storage. The system was implemented and installed on-site by ERA, specialists in image-centric IT solutions for the creative industries. The new installation is particularly aimed at enhancing halo's 4k capabilities.
"We wanted an advanced storage solution, but to avoid any proprietary technologies or restrictive and expensive infrastructures like Fibre Channel," said Daniel Napier, technical director at halo. "It quickly became clear that PixStor was the right solution for us, not least because they could guarantee perfect playback on multiple 4k workstations and complex VFX workflows."
The benefit of the PixStor solution in installations such as halo post is that it uses best-of-breed commodity components, bringing both capital savings and an ease of maintenance. Layered on to that is extremely sophisticated software, delivering very high performance which is tuned to the specific needs of demanding file based, multi-resolution media users.
"We routinely use PixStor for high performance systems, both on premise and in the cloud," said Sean Baker, Commercial Director at ERA. "We can take a clear requirements specification from the client, and use Pixit's design tools to implement a software-defined storage system that provides exactly what is required, with a clear path for expansion in the future."
For high-end work at Halo Post Production the PixStor network currently supports six realtime 4k clients, including Nucoda grading systems, Flame VFX and Avid Media Composers. There are a further two 4k conform and I/O stations. A separate workflow supports a further 20 2D/3D clients and multiple render nodes, within the same logical storage space. Thenetwork fabric was architected using a loss-less, non-blocking Mellanox IP core of 40Gb and 10Gb dependent on client connections. Prioritisation across the network guarantees performance levels for specific users, while providing smooth data delivering to all network clients.
"ERA and Pixit bring a real, in-depth knowledge of the applications we use," commented halo's Napier. "Their real-world experience and consultative approach proved invaluable in creating our central storage resource, that we know we can rely on to deliver even the most demanding raw formats."
"They also provide support, by experts, 24 hours a day," he added. "You don't see this type of dedication to customers from competitor products."
Recent post production credits at halo include feature films like The Danish Girl, Bear Hunt and Nocturnal Animals.  Dramas including Doctor Thorne and The Missing 1 / 2, documentaries including Great Barrier Reef with David Attenborough for the BBC Natural History Unit, Forces of Nature, television comedies Murder in Successville, Upstart Crow and Toast of London.
About halo:
Halo celebrated its tenth birthday in 2014 having grown into one of the most respected privately-owned post facilities in the UK. Based in London's Soho, halo provides television and film producers with the full range of post production services. Winners of the Broadcast 2014 and 2016 'Best Post Production Facility' award and charting at No.3 in the 2015 Televisual Top 50 facilities producer's poll, halo's quality of service, talented team and state-of-the-art technical infrastructure have resulted in its reputation as a great place to work. Halo is run day-to-day by the same people that started and grew the company. Halo believe this connection creates a unique level of care, commitment and attention that is rarely found nowadays and their continued success underpins a conviction that clients get something at halo that they don't get elsewhere. http://www.halopost.com/
Save