Scalable, manageable and flexible storage infrastructure for high-performance project-centric workflows
Pixit Media and Tiger Technology join forces to offer a tightly integrated, yet incredibly flexible and easy to manage workflow and storage solution, purposely built to streamline the most demanding 4K production pipelines.
The Challenge
It is no longer sufficient for administrators to just provide high-speed shared storage to the users. They need to be able to expand capacity without incurring downtime or affecting user workflows; ensure storage infrastructure can sustain increased demand in performance; prevent dispersion of content across multiple volumes; give users the ability to easily track assets and archive projects; make sure prying eyes do not gain access to sensitive material; assign projects to teams and users; facilitate collaboration between teams and supporting – and keeping up with – multiple OS and applications (some having proprietary requirements such as Avid) that creative teams may require.
The Solution
The combination of Pixit Media's software-defined storage and asset-management infrastructure with Tiger Technology's project-centric workflow management appliance greatly streamlines demanding production pipelines by simplifying, eliminating, and automating many of the traditional tasks that have been time consuming, error prone, and disruptive.
How it Works
Tiger Technology's Project Serve solves the problem of managing the creative production pipeline by providing a simple way to create project-based workspaces on the PixStor storage and control access rights and permissions, manage asset usage, and minimize error-prone, manual media management. When users log into their Project Serve account, they only see the workspaces available to them. They can then choose to mount some of them as local drive(s). Each workspace can be configured to react differently when multiple users try to access it simultaneously. The Single-User Write mode ensures only one user has write access at any given time, while the Multi-User Write mode enables multiple users to simultaneously mount the same workspace with write capability. Project Serve facilitates metadata searches and accelerates collaborative workflows for all standard production and post software, including Avid.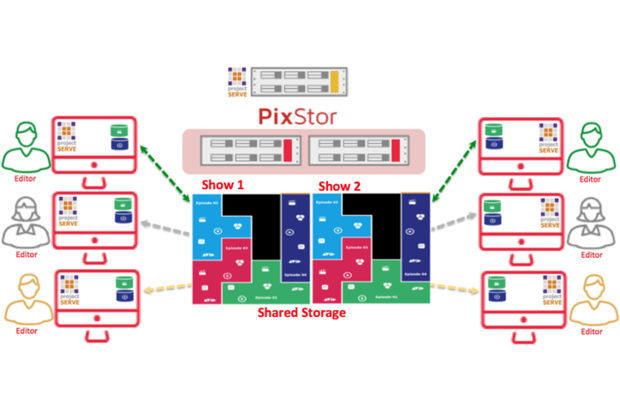 With Pixit Media's PixStor, the only software-defined storage solution designed exclusively for the needs of content creators and distributors, Project Serve managed workflows will benefit from built-in data protection, guaranteed performance, quality of service targets and seamless security integration using industry standard access protocols such as SMB and NFS. Furthermore, PixStor's analytics and data management toolkits provide instant intelligence over how the solution is being used and by whom through an intuitive web-based interface. Finally, because PixStor is software-defined, facilities are empowered with the flexibility to instantly grow and shrink the storage using the most appropriate hardware for their ever-changing requirements across a wide variety of technologies including disk, flash, object and tape, all within a single easy-to-access volume.
The combination of Project Serve and PixStor enables facilities of all sizes to securely and intelligently manage their projects and assets. The solution also provides an extremely easy to understand and cost-effective growth model without the constraints imposed by per-user or per-terabytes licenses or proprietary hardware, giving you both technical and financial control over your most valuable work.
Main Benefits
Simplifies project workflow, user control and media management
No per-client or capacity-based licensing
Requires no client side software, connects via industry standard protocols
User/Team Management for accessing projects and media
Support for Active Directory and LDAP
Guaranteed Performance forever – no reformatting or defragging
Public/Private Workspace-collaborate with others or work privately
Simple and intuitive management and user interfaces
Wide variety of storage hardware choices, eliminating vendor lock-in
Project Sharing: Avid Bin Locking, Adobe CC, Final Cut Pro/X etc.
Completely Dynamic Workspaces: no formatting, resizing or pre-allocation required
Completely Dynamic workspaces: utilise the network capabilities in all Apps
Proxy Generation: Review any video clip or sequence over the network
Instant Search for keywords, clip names, time code, codecs and formats
Template creation: create new projects from using scratch or using templates
Activity Log
Workspace Back-Up
Talk to ERA today and see what we can do together to help your business.
Save
Save
Save